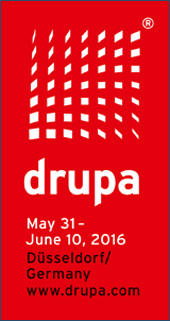 Plymouth, MA, May 13, 2016.  Flexo Concepts will introduce a variety of new MicroTip options on its TruPoint Orange® doctor blade at Drupa 2016 in Dusseldorf, Germany.  The tip variations optimize metering performance in flexo printing and coating applications.
MicroTip is a modified lamella tip that allows for a finer contact area with the anilox roll on mid-high line screens.  The tip configuration, combined with a next generation polymer material, enables the Orange blade to achieve the print quality derived from a steel blade in a variety of flexographic printing applications.
Since Orange was released in early 2013, Flexo Concepts has been focusing on improving blade tip technology.  New MicroTip variations allow printers to select a blade that will optimize metering effectiveness and maximize blade life in their specific application.  MicroTip options range from tips that extend blade life in most process work to more robust options for white decks and coarser anilox rolls.
TruPoint Orange has been endorsed by a number of press manufacturers and is currently shipping as the standard blade on many new machine installations.  At the show, the blade will be featured on equipment by AB Graphic International (Hall 17 at HP), Cartes Label Machines S.r.l. (Hall 10/C41), Focus Label Machinery Ltd. (Hall 10/C10) and Grafisk Maskinfabrik.
To learn more about Flexo Concepts, the TruPoint Orange doctor blade or MicroTip technology, visit Hall 11/C34 at the show or www.flexoconcepts.com.  To access a complete press kit, go to www.flexoconcepts.com/media.
About Flexo Concepts
Headquartered in Plymouth, Massachusetts, Flexo Concepts manufactures TruPoint doctor blades and wash-up blades and MicroClean™ dry media anilox cleaning systems. All products are designed to improve print quality and reduce operational costs for flexographic and offset printers.  Flexo Concepts maintains distribution locations in North America, South America, Europe, Asia, Africa and Australia.  For more information about the company and its products visit www.flexoconcepts.com.  For regular updates, follow Flexo Concepts on Facebook and Twitter.