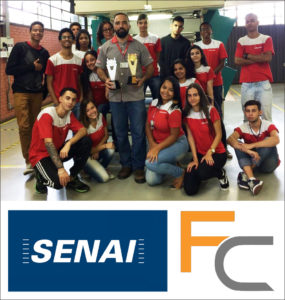 Plymouth, MA, April 15, 2019. Flexo Concepts has partnered with Brazilian learning institute, SENAI-Cecoteg, to advance the flexo printing industry in the region.
The Communication, Design and Graphic Technology Center of SENAI, the National Service for Industrial Training, SENAI-Cecoteg works with its partners to assimilate and share new technologies to support the Brazilian printing market. The school provides two primary services: to train and prepare 16-21-year-old students for work in the industry and provide research and consulting support to local businesses. The course of industrial learning in flexographic printing is a distinguished area within the school, being awarded the Professor Sergio Vay prize for quality in flexography eight times by ABFLEXO – including first place this year – for works printed by the students.
Flexo Concepts, a company whose TruPoint® products occupy a key position in the global flexo printing industry, has joined forces with the organization to promote the benefits of its doctor blade innovations in Brazil. The TruPoint Orange® blade has proved a revolutionary blade option in the printing and packaging market; a viable replacement for steel in high graphics narrow- and wide-web applications, Orange also resolves a variety of common problems including UV ink spitting, anilox roll scoring and pressroom injuries. Flexo Concepts' TruPoint Green blade offers a safe replacement for steel in mid-level corrugated graphics applications.
To learn more about SENAI-Cecoteg, visit www.facebook.com/CECOTEG. For more information about Flexo Concepts and TruPoint doctor blades, go to www.flexoconcepts.com. A complete press kit can be downloaded at www.flexoconcepts.com/media.
About Flexo Concepts
Established in 1988 and headquartered in Plymouth, Massachusetts, Flexo Concepts manufactures TruPoint® doctor blades and MicroClean™ dry media anilox cleaning systems.  All products are designed to improve print quality and reduce operational costs for flexographic and offset printers.  Flexo Concepts maintains distribution locations in North America, South America, Europe, Asia, Africa and Australia.  For more information about the company and its products visit www.flexoconcepts.com.  For regular updates, follow Flexo Concepts on Facebook and Twitter.