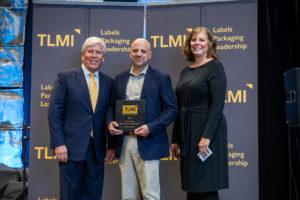 Plymouth, MA, October 22, 2018. Flexo Concepts was the proud recipient of the Tag and Label Manufacturers Institute's "Calvin Frost Environmental Leadership Award" at the association's Annual Awards Dinner on Tuesday in Amelia Island, Florida.
Each year TLMI selects one converter and one supplier member that have "consistently demonstrated a commitment to progressive environmental practices across a range of areas." The award is named in honor of Calvin Frost who is highly regarded for his long-running dedication to promoting the use of eco-friendly practices in the global tag and label industry.
Greg Howell, President and co-owner of Flexo Concepts, accepted the award for his company. "Our commitment to sustainability extends to all aspects of our organization – from the borders of our parking lot to the very center of our manufacturing facility," he said. "It is important to us that we do our part to take care of the environment, and we very much appreciate being recognized in this way."
Flexo Concepts was chosen as a winner for its initiatives that reduce energy dependence, improve efficiency and reuse waste. A solar renewable energy system powers all lighting, heating, air conditioning, and machinery and equipment for its facility and other tenants in the building, and all lighting components have been replaced with LED fixtures and bulbs. The company's eco-awareness is also evident in its product development and production methods – the main polymer used to make its TruPoint Green doctor blade is created from recaptured carbon monoxide, and a central waste collection system consolidates blade material waste in the manufacturing area for reuse in other industries.
For more information about Flexo Concepts and its environmental improvement efforts, visit www.flexoconcepts.com. A complete press kit can be downloaded at www.flexoconcepts.com/media.
About Flexo Concepts
Established in 1988 and headquartered in Plymouth, Massachusetts, Flexo Concepts manufactures TruPoint® doctor blades and MicroClean™ dry media anilox cleaning systems.  All products are designed to improve print quality and reduce operational costs for flexographic and offset printers.  Flexo Concepts maintains distribution locations in North America, South America, Europe, Asia, Africa and Australia.  For more information about the company and its products visit www.flexoconcepts.com.  For regular updates, follow Flexo Concepts on Facebook and Twitter.