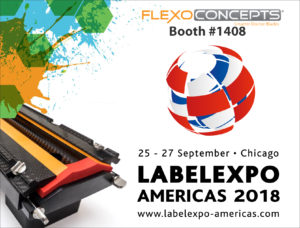 Plymouth, MA, September 10, 2018. Flexo Concepts will continue to promote the benefits of its TruPoint Orange doctor blade at Labelexpo Americas 2018. Featuring MicroTip® technology, Orange delivers high-precision metering and helps printers eliminate pressroom issues such as UV ink spitting, start-up waste, short blade life and operator injuries.
Once again, Orange has been selected by a number of OEMs to demonstrate the effectiveness of their equipment at the show. Among them are AB Graphic, Cartes, Domino, Edale, Etirama, FUJIFILM, Gonderflex, Kurz, MPS, Nilpeter and Tresu. More information and booth locations can be found at www.flexoconcepts.com/labelexpo-americas-2018/#oems-running-trupoint.
Due to its popularity at Labelexpo Europe 2017, Bee Sting liqueur will be back this year and available for tastings at Flexo Concepts' booth #1408. The liqueur is distilled in the company's hometown of Plymouth, Massachusetts, and the bottles feature a unique label printed by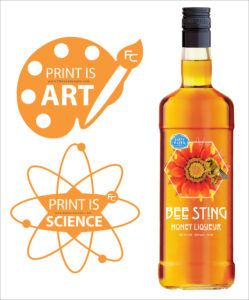 Design Mark using a TruPoint doctor blade.
Flexo Concepts is also co-sponsoring the "Join the Network" Gala along with Omet and other industry partners. The evening event, featuring a black-tie dinner, a raffle, live music and the opportunity to test drive a Ferrari, is part of the consortium's "Future of Flexo" initiative to support students pursuing careers in printing.
As a theme this year, Flexo Concepts encourages people to consider the question, "Printing – an art or a science?" Attendees can stop by booth #1408 to choose one of two exclusive laptop stickers designed to support their view.
For more information, visit Flexo Concepts at the show or go to www.flexoconcepts.com/labelexpo-americas-2018/#booth-features. A complete press kit can be downloaded at www.flexoconcepts.com/media.
About Flexo Concepts
Established in 1988 and headquartered in Plymouth, Massachusetts, Flexo Concepts manufactures TruPoint® doctor blades and MicroClean™ dry media anilox cleaning systems. All products are designed to improve print quality and reduce operational costs for flexographic and offset printers.  Flexo Concepts maintains distribution locations in North America, South America, Europe, Asia, Africa and Australia.  For more information about the company and its products visit www.flexoconcepts.com.  For regular updates, follow Flexo Concepts on Facebook and Twitter.