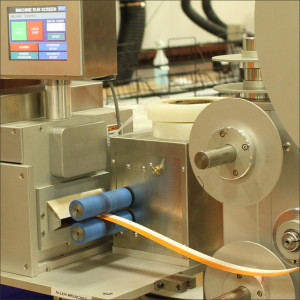 Plymouth, MA, March 29, 2016. Flexo Concepts is now applying foam tape to its TruPoint Orange® and Polyester doctor blades for use in PCMC NT chambers. The adhesive-backed foam creates a positive seal to prevent ink leakage and minimize the need for cleaning.
TruPoint polymer doctor blades are now a viable option for flexible packaging printers using PCMC presses. TruPoint Orange is available in different thicknesses and MicroTip® edges for maximum metering performance. On the containment side, TruPoint Polyester is highly resistant to chemicals and provides superior blade life. Both materials reduce anilox scoring and improve workplace safety.
The TruPoint sealing blades also work particularly well in chambers that have become pitted or coated with dried ink residue over time. By forming a gasket, the foam tape not only eliminates leaks but also prevents excessive doctor blade wear from increased pressure required to maintain contact area with the anilox roll.
To learn more about TruPoint doctor blades, visit www.flexoconcepts.com or call 508.830.9506. For a complete press kit, go to www.flexoconcepts.com/media/.
About Flexo Concepts
Headquartered in Plymouth, Massachusetts, Flexo Concepts manufactures TruPoint doctor blades, the TruPoint QuikWash System and wash-up blades, and MicroClean™ dry media anilox cleaning systems. All products are designed to improve print quality and reduce operational costs for flexographic and offset printers. Flexo Concepts maintains distribution locations in North America, South America, Europe, Asia, Africa and Australia. For more information about the company and its products visit www.flexoconcepts.com. For regular updates, follow Flexo Concepts on Facebook and Twitter.