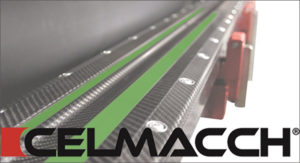 Plymouth, MA, October 17, 2017.  Flexo Concepts® is excited to announce that Celmacch is shipping all its carbon fiber chambers with the TruPoint Green doctor blade.
Based in Italy, Celmacch is a leading producer of corrugated board converting equipment including carbon fiber doctor blade chambers.  The chambers are manufactured from a carbon fiber material which offers excellent anti-static properties, lightness, high strength to weight ratio, superior corrosion resistance and no structural vibrations.  Celmacch's chambers are equipped with an innovative magnetic system for safe, quick and easy blade changes that don't require tools.
The Italian OEM uses only premium components and chose TruPoint Green to maximize benefits for its customers.  By using Green, corrugated printers can economically produce high-quality print in a range of line screens without having to turn to steel.  The custom-compounded material demonstrates better stiffness and only half the mechanical creep of UHMW in addition to better wear rates and safety than steel.  To learn more about TruPoint Green, go to www.flexoconcepts.com or call 508-830-9506.
To request a catalog or quote from Celmacch, visit www.celmacchgroup.com.  A complete Flexo Concepts press kit can be downloaded at www.flexoconcepts.com/media.
About Flexo Concepts
Headquartered in Plymouth, Massachusetts, Flexo Concepts manufactures TruPoint® doctor blades and wash-up blades, and MicroClean™ dry media anilox cleaning systems. All products are designed to improve print quality and reduce operational costs for flexographic and offset printers.  Flexo Concepts maintains distribution locations in North America, South America, Europe, Asia, Africa and Australia.  For more information about the company and its products visit www.flexoconcepts.com/.  For regular updates, follow Flexo Concepts on Facebook and Twitter.