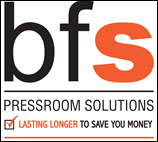 Flexo Concepts® announced today that it has signed BFS Pressroom Solutions Ltd. as an exclusive distributor of TruPoint™ doctor blades to offset printers in the UK and Ireland.
Established in 1986, BFS is a family run company that manufactures and distributes specialist pressroom consumables. All products are designed to last longer and improve productivity for printers.
To learn more about Flexo Concepts or becoming a distributor, visit www.flexoconcepts.com or call 508.830.9506. For a complete press kit, go to www.flexoconcepts.com/aboutus/media.php.
About Flexo Concepts™
Headquartered in Plymouth, Massachusetts, Flexo Concepts™ manufactures TruPoint™ doctor blades and MicroClean™ dry media anilox cleaning systems. All products are designed to improve print quality and reduce operational costs for flexographic and offset printers. Flexo Concepts™ maintains distribution locations in North America, South America, Europe, Asia, Africa and Australia. For more information about the company and its products visit www.flexoconcepts.com.