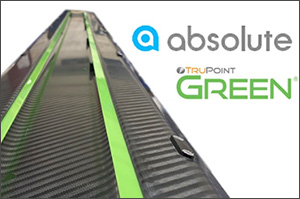 Plymouth, MA, August 5, 2020.  Flexo Concepts® is excited to announce that its TruPoint Green doctor blade has been authorized by Absolute Engineering for use with the company's carbon fiber chamber systems. After conducting extensive testing, technicians at the UK-based chamber producer found TruPoint Green to be a solid option in mid-high line screen corrugated metering applications.
TruPoint Green was created in Flexo Concepts' Doctor Blade Innovation Lab as an alternative for steel blades when increasing anilox line screens test the limits of UHMW's metering capability. The blade's excellent stiffness and spring properties allow the blade edge to maintain good contact with the anilox roll and execute the delivery of higher quality graphics. Green blades are drop-in replacements for UHMW and safer than steel in terms of preventing operator injuries and anilox roll scoring.
Flexo Concepts is proud to partner with Absolute Engineering, a trusted world leader in the design and manufacture of carbon fiber-chambered doctor blade systems with more than 7,000 successful installations worldwide. By combining two cutting-edge technologies – Absolute Engineering's carbon-fiber chamber systems and TruPoint Green next generation plastic doctor blades – printers can maximize quality and productivity while improving safety.
Learn more about Absolute Engineering's carbon-fiber chamber systems at absolute-eng.com. For more information about TruPoint Green or to request a free blade sample, visit www.flexoconcepts.com. 
About Flexo Concepts
Established in 1988 and headquartered in Plymouth, Massachusetts, Flexo Concepts manufactures TruPoint doctor blades and MicroClean™ dry media anilox cleaning systems. All products are designed to improve print quality and reduce operational costs for flexographic and offset printers. Flexo Concepts maintains distribution locations in North America, South America, Europe, Asia, Africa and Australia. For more information about the company and its products visit www.flexoconcepts.com. For regular updates, follow Flexo Concepts on Facebook and Twitter.