Markets
Corrugated
Envelope
Coating & Laminating
New Energy/Technology
Specialty Applications
TruPoint DuraPoint Doctor Blade
The Black UHMW Doctor Blade
For corrugated printers producing moderate graphics but looking for longer doctor blade life, TruPoint DuraPoint™ is the doctor blade for you. The TruPoint DuraPoint doctor blade is an exclusive high density formulation UHMW designed to offer superior doctor blade life and enhanced graphics. Additionally, DuraPoint, the black UHMW doctor blade, is a direct replacement as both a metering and containment blade and can increase press uptime while maintaining all the benefits provided by traditional UHMW doctor blades.  
Request a free sample of the TruPoint DuraPoint doctor blade today
to trial this doctor blade innovation in your press room.
TruPoint DuraPoint Doctor Blade Features
DuraPoint's Superior Blade Life
TruPoint plastic and polymer doctor blades are generally known to outlast traditional steel doctor blades, due to the natural durability of plastic. TruPoint DuraPoint's enhanced, high-density UHMW formulation outlasts a traditional UHMW doctor blade, increasing press uptime and decreasing the frequency of blade changes.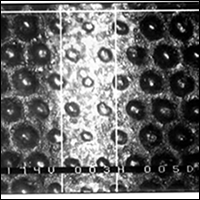 DuraPoint Eliminates Anilox Scoring
A costly concern with using steel doctor blades is the potential for anilox roll scoring and anilox wear. Compared to steel, TruPoint doctor blades do not crack or splinter, causing roll scoring. While the material is stiff and durable,  TruPoint DuraPoint will not damage or wear down the anilox roll or cause particles within your ink.
To better understand anilox roll scoring, Click Here  to view our blog post on "Anilox Roll Scoring".
DuraPoint is Safe to Handle
You can significantly reduce press room injuries by replacing steel doctor blades with safe TruPoint doctor blades. The properties of the blade material reduce the risk of injury when installing and removing blades from the press.
To better understand the risks associated with steel doctor blades, Click Here to download our White Paper on "The Hidden Costs of Using Steel Doctor Blades".
TruPoint DuraPoint Standard Dimensions (custom options available)
Thickness
Profile

Max. Width

Max. Length

 .060″ / 1.6mm
.080″ / 2mm
Bevel – 30º :: 45º
DACC (Lamella)*
Straight

*Not available in .030/.8mm & .040/1mm

4″ / 101mm
100′ / 30m
Available Cut-To-Length