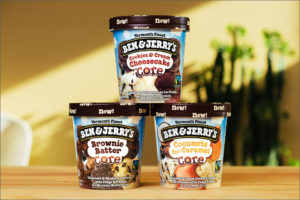 According to Smithers Pira in its "Future of Global Flexible Packaging to 2020" report, "Flexible packaging has been one of the fastest growing packaging sectors over the past 10 years, thanks to increased consumer focus on convenience and sustainability, and this rapid development will continue to accelerate."  This growth, however, will depend on the industry's ability to cope with market trends driving shorter run lengths.
Versioning and Variable Data Printing
Two of these trends driving shorter run lengths are versioning and variable data.  Versioning is used to produce packages for different variations of a product (such as a line of flavors) while maintaining brand continuity.  For the printer, a large print job is segmented into smaller lots that are customized based on each "version" of the product.
Variable data printing is mainly used in flexible packaging applications for product authentication and logistics in the distribution chain.  Companies can add a unique identifying code to each package, allowing individual products to be "tracked and traced" through the supply chain.  Bar codes and RFID codes are used to facilitate inventory and prevent counterfeiting.
Both versioning and variable data lend themselves well to digital printing, a process that can easily and cost-effectively produce small lots.  In flexible packaging, however, long runs are required to achieve the economies necessary to be profitable.  How can a flexible packaging printer be competitive?
1. Take Advantage of New Wide Web Technologies
As run lengths become shorter, changeover speeds become more critical than press speeds.  The wide web industry has responded with equipment technologies that make faster set-ups possible such as gearless presses, anilox sleeves and automatic impression settings.  Some printers are converting to fixed ink sets, such as extended gamut, to minimize the number of wash-ups, or eliminating manual cleaning altogether with automatic wash cycles.
2. Add Mid-Web Equipment
A number of large format printers are adopting mid-web press technology for economical production of medium-length jobs.  By comparison, these presses not only cost less but are built for faster changeovers, lower tooling costs, and less consumption of ink, plates and other consumables.  They require fewer operators to run and deliver easier reproduction of high-quality graphics.
3. Incorporate Digital
Finally, for some work, digital just makes more sense.  Digital printing's sweet spot is its ability to produce short runs economically.  By adding this complementary technology, printers can take advantage of the flexibility offered by having both capabilities under one roof.  Like narrow web, using digital for short run work also frees up wide-web presses for big jobs.
The flexible packaging industry is experiencing a reduction in run lengths driven by shifts in the way brand owners do business.  Printers have to find ways to adapt to such changes as versioning and variable information printing by creating new technology and processes.  By improving equipment to shorten changeover times and adopting additional printing capabilities, wide web printers will be able to claim its share of future growth in the package printing market.