The TeaToaster.  An appliance that makes tea and toast?  How nice would it be to have the option of preparing your breakfast and morning beverage at the same time??!  (It doesn't actually make toast, but a good idea, right?)
There are also innovations in the printing industry that combine functionalities to make life a little easier for press operators.
Today's brand owners are more demanding than ever, looking for variable data and versioned graphics, short lead times, fast turnarounds and, of course, competitive prices.  These forces are driving industry innovation, and Mark Andy and Flexo Concepts® have led with hybrid technologies that bring flexibility and efficiency to the modern-day pressroom.
Hybrid press technology
In his 2016 article, Hybrid Presses – Combining digital and conventional printing offers converters the best of both worlds, Associate Editor of Label & Narrow Web Greg Hrinya compares hybrid press technology in the label printing market to that in other industries – a hybrid car which relies on multiple power sources or hybrid golf club that features the qualities of an iron and a fairway wood.  Similarly, new hybrid presses combine the benefits of digital with the power of flexo in one piece of equipment.  For printers, according to Hrinya, "The goal is to meet demand for large run flexo orders on the same press that is capable of handling a 500-label order from a local winery."
Mark Andy's Digital Series – best of flexo and digital
Mark Andy's Digital Series, a 2017 technical innovation award winner, does just that.  Built upon the industry-leading Performance Series architecture, these presses leverage the advantages of digital technology with the proven capabilities of flexo.  The optimized hybrid platform is an efficiently designed, end-to-end workflow offering digital printing with in-line converting, decoration and finishing.  This happens all in a single pass and any size converter or job can be accommodated.  The machines run at printing speeds up to 240 fpm (73 mpm) and feature an intuitive user interface and consistent controls.  Operators can customize and enhance their production process to:
Increase throughput
Minimize cost of operation
Optimize process for short to medium runs
Maximize versatility
Create a superior user experience
Obtain reliability of proven P-Series platform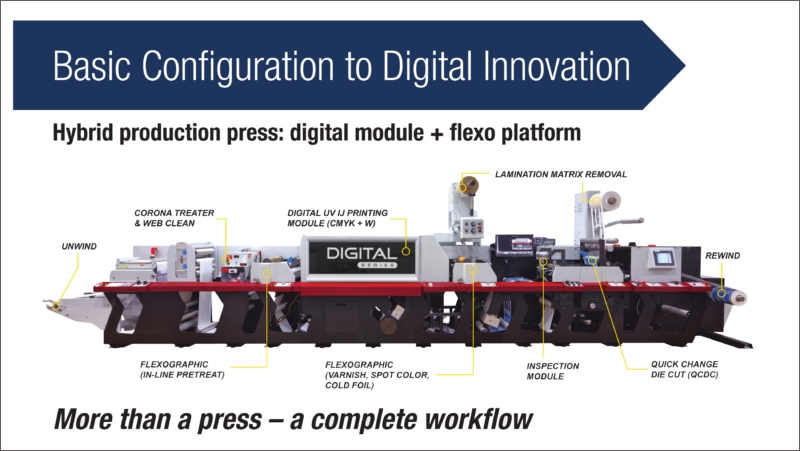 Flexo Concepts' TruPoint Orange® – best of steel and plastic
Just as Mark Andy's Digital Series brings together the best of digital and flexo in one press, Flexo Concepts' TruPoint Orange combines the advantages of both steel and plastic materials in a single blade product.
At one time, steel doctor blades were the only option capable of providing the fine, consistent contact area with the anilox roll necessary to produce high-end graphics.  However, printers had to accept the risks of using steel – dangerous injuries and anilox scoring.
Although plastic is safer to handle and doesn't produce metal fragments that can cause scoring, traditional plastic doctor blades must be engineered thicker to provide enough rigidity to meter the anilox.  This thicker contact area can't meter high line screens effectively, so plastic blades were ruled out as an option for narrow web printers.
That is, until the hybrid doctor blade came along.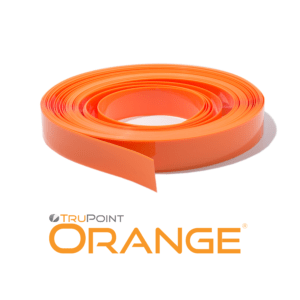 A product of Flexo Concepts' Doctor Blade Innovation Lab, TruPoint Orange is constructed from a next generation polymer material and engineered with MicroTip® technology in a combination that is capable of achieving a fine, consistent contact area with the roll.  The blade can effectively produce high quality graphics as well as steel while retaining the benefits of traditional plastic – no dangerous cutting edge or metal fragments that will damage the anilox roll.  Orange doctor blades are able to:
Effectively meter line screens up to 2,000 lpi (785 L/cm)
Reduce pressroom injuries
Eliminate anilox scoring
Prevent UV ink spitting even at high press speeds
Handle specialty coating chemistries
As the label and packaging market evolves, printers need products that can keep up.  With their hybrid technologies, Mark Andy and Flexo Concepts are at the forefront in developing innovative solutions that combine the best of known technology to help printers operate efficiently and competitively.  What the TeaToaster did for breakfast (in theory), the Digital Series and TruPoint Orange have done for printers:  combine two technologies in one to bring maximum success to the narrow web pressroom.