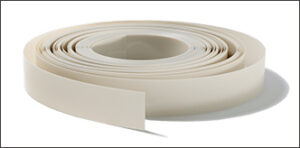 For such a seemingly insignificant part of the press, the containment blade's job is an important one.  After all, it is a fundamental component of the doctor blade chamber.  By forming an enclosed system, containment blades play a key role in allowing the printer to maintain ink viscosity, minimize skimming, lower ink consumption and simplify cleanup.
Choosing polyester containment blades over steel is a smart way to save money, improve safety and reduce your environmental impact.  Unlike the metering blade, which has a direct impact on print quality, the containment blade only has to contain ink in the chamber.  This gives a printer more options to choose from with regard to blade materials.  Learn why polyester is a superior choice over steel.
Top 5 reasons to switch to polyester containment blades:
Back doctoring – Some printers experience trail doctoring at higher press speeds when using steel containment blades. Steel blades are too stiff to allow back-doctored ink to pass underneath the blade and back into the chamber.  Ink builds up on the back side of the blade, pools at the end of the chamber and eventually slings onto the press and web.  This situation not only creates a mess but also affects print quality.  Printers can eliminate trail doctoring by using polyester containment blades.  This material is equally effective at containing ink in the chamber but thin and flexible enough to let back-doctored ink return to the chamber.
Cost – Polyester containment blades cost substantially less than steel blades. The price per inch for polyester typically ranges from one-third to one-half that of steel.
Safety – By replacing one of the steel doctor blades in a chamber with polyester, you can reduce your risk of

doctor blade injuries

by 50%. Unlike steel, polyester blades are safer to handle than steel and won't cut press operators when they are installing and removing them from the press.
Environmental impact – During production, polyester blades emit a small percentage of carbon dioxide compared to steel blades. Using polyester containment blades can help printers meet requirements for reducing their carbon footprint.
Anilox damage – Polyester containment blades will not

score or damage anilox rolls

. The material is soft and contains no sharp fragments which can break off, become lodged against the roll and destroy the engraving as the roll turns.  The material is non-abrasive and won't cause excessive wear on the roll.  Replacing or re-engraving anilox rolls is expensive, so extending their life can be a huge cost saving.
Printers are always looking for ways to improve efficiency and save money.  Why not choose a containment blade that not only costs less but also has additional pressroom benefits?  Polyester containment blades offer a less expensive and safer alternative to steel that also reduces trail doctoring and environmental impact.  It's amazing how such a small change can make such a big difference!