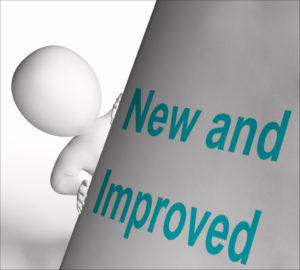 Since Flexo Concepts launched TruPoint Orange® with a MicroTip four years ago, it has been an overwhelming success in tag and label plants. Printers around the world have embraced the blade's capabilities with enthusiasm. OEMs have endorsed Orange and are shipping the blade with new press installations, and industry co-suppliers have co-marketed the blade at trade events to demonstrate its unique benefits.
But despite the success, we haven't stopped working to improve our revolutionary blade innovation.
By keeping our "finger on the pulse" of the industry, we continue to learn what issues today's printers are facing. Using advanced equipment, our R&D folks experiment with blade materials and tips in our Doctor Blade Innovation Lab to come up with solutions, and our engineers deliver concepts that simplify life in the pressroom.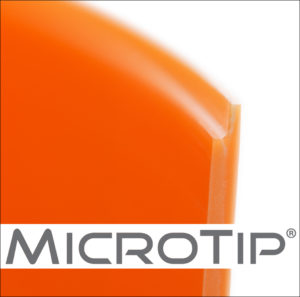 Flexo Concepts has expanded its range of blade thickness and MicroTip combinations on its Orange blade so printers can customize blades for their specific applications. Options range from material and tip duos that extend blade life in most process work to more robust alternatives for white decks and coarse anilox rolls.
Recently, our engineers modified the MicroTip design to further improve metering and blade life. A minor enhancement to the geometry of the tip doubles its stiffness at the contact point with the anilox roll. This refinement fortifies the strength of the blade and bolsters its impact resistance. The "new and improved" MicroTip delivers a cleaner wipe and lasts longer.
Our culture of continuous improvement also extends to manufacturing. Investing in advanced equipment allows us to achieve better precision and tighter tolerances in our blade production. In response to the industry's struggle with start-up issues, we have improved finishing techniques to produce a smoother finish on the MicroTip. As a result, the blade requires no wear-in period and eliminates start-up lines.
At Flexo Concepts, we like to go above and beyond in what we do. Therefore, even after perfecting a new blade technology, we keep working to make it better.  The latest design update to the MicroTip edge and improved "polishing" do just that. TruPoint Orange not only has the ability to replace steel in high line screen applications, but now meters even better and eliminates start-up lines. What was once used mostly as a "fix-it" blade (to prevent UV ink spitting for example) has proven that it can compete for best "all-around" blade in the narrow web pressroom.