Markets
Corrugated
Envelope
Coating & Laminating
Cleaning & Scraping Applications
Specialty Applications
TruPoint Green Doctor Blade
The TruPoint Green doctor blade is a next generation, polymer doctor blade designed to help today's Corrugated Printers achieve the high quality graphics newly desired by their customers. This specially formulated Green doctor blade is a custom compounded material that is stiff, resistant to mechanical creep (doctor blade bending), long lasting and safe to handle – improving corrugated print quality. In tests conducted in our Innovation Lab, our engineers found that the TruPoint Green doctor blade is over 4x more creep resistant than UHMW and also demonstrated a much lower wear rate than steel. Furthermore, the TruPoint Green doctor blade also contains recaptured carbon, making it truly green and reducing the world's carbon footprint!
Request a free sample of TruPoint Green today and test the newest doctor blade innovation in Corrugated Printing for yourself!
TruPoint Green Doctor Blade Features

TruPoint Green Replaces Steel in High Graphics Corrugated Applications
Many printers producing high graphics don't want to accept the downside of steel – short blade life, potential for anilox scoring and risk of serious injury to press operators. To address this market need, Flexo Concepts has introduced the TruPoint Green® doctor blade for high graphics corrugated printers who prefer a plastic blade. Green can handle these metering requirements while delivering the added benefits that polymer materials are known for – long blade life and safety.
To better understand, Click Here to view "New Polymer Doctor Blade for High Graphics Boxmakers" blog.
TruPoint Green Resists Doctor Blade Bending
Doctor blade mechanical creep, also known as doctor blade bending, is the tendency of a doctor blade to relax under pressure.  The TruPoint Green doctor blade was designed in the FC Innovation Lab to resist doctor blade bending and uphold its shape while metering. This distinction improves print quality and increases doctor blade life. Compared to UHMW, Trupoint Green is over 40% more creep resistant.
To better understand mechanical creep, Click Here to view the "Doctor Blade Mechanical Creep: what it is, why it matters, and what you can do about it" infographic!

TruPoint Green increases Blade Life
TruPoint plastic and polymer doctor blades are generally known to outlast traditional steel doctor blades, due to the natural durability of plastic. The TruPoint Green doctor blade offers an exclusive formulation that is stiff, durable and resists mechanical creep (doctor blade bending). These features extend blade life tremendously, resulting in fewer blade changes, better metering over an extended period and more press uptime!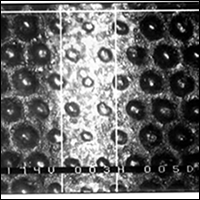 TruPoint Green does not damage the Anilox Roll
A costly concern with using steel doctor blades is the potential for anilox roll scoring. Compared to steel, the TruPoint Green doctor blade does not crack or splinter, causing roll scoring. The material, although stiff and durable, will not damage the anilox roll or cause particles within your ink.
To better understand anilox roll scoring, Click Here  to view our blog post on "Anilox Roll Scoring".
TruPoint Green is Safe to Handle
You can significantly reduce press room injuries by replacing steel doctor blades with safe TruPoint Green doctor blades. The properties of the blade material reduce the risk of injury when installing and removing blades from the press.
To better understand the risks associated with steel doctor blades, Click Here to download our White Paper on "The Hidden Costs of Using Steel Doctor Blades".
TruPoint Green Protects the Environment
The material used to create TruPoint Green contains recaptured carbon, reducing your carbon footprint and making this doctor blade truly green! Flexo Concepts is also 100% solar powered and manufacturers all TruPoint doctor blades by sustainable energy.
To better understand how your doctor blades could help you reduce your carbon footprint, Click Here to view "The Environmental Impact of Doctor Blades" infographic.
TruPoint Green Standard Dimensions (custom dimensions available)
Thickness
Profile

Max. Width

Max. Length

.050″ / 1.27mm
.063″ / 1.6mm
.080″ / 2mm
Bevel – 30° :: 45°
4″ / 101.6mm
250′ / 75m
Available Cut-To-Length